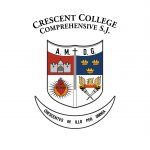 Dear Parents/Guardians,
I am delighted to write to the parents of the Crescent Class of 2020 with good news. Unfortunately, in the midst of the Covid 19 pandemic there was no possibility of having a physical graduation ceremony to acknowledge and celebrate the achievements of your son/daughter. At the time the view of the year group is that they would in the future like to gather to graduate as a class year in Crescent.
As restrictions have lifted we will had Graduation for the Class of 2020 on Saturday October 16th at 12pm in Crescent using our new outdoor spaces. This will be a gathering for the year to meet again and catch up. It will also allow us to present each student with their graduation certificate, medals of excellence and gift of jewellery.  I am delighted to have this opportunity to follow through on our commitment to the Class of 2020.
Graduation Schedule:
11.45 – Arrival & Greeting
12.00 – Welcome from Principal
12.10 – Captains Address
12.30 – Presentation of Certificates & Jewellery.
12.45 – Presentation of Medals of Excellence.
1.00- 2pm – Light refreshments
For us to organise the graduation we must have the numbers who wish to attend so that we can have everything in place to celebrate this occasion. I would ask that your son/daughter please email me mullinsd@crescentsj.com by 4pm next Tuesday 5th of October if you are in a position to attend.
Yours sincerely,
Diarmuid