A GREAT DAY!!! CONGRATULATIONS TO OUR STUDENTS WHO RECEIVED THEIR JUNIOR CYCLE RESULTS.  WE'RE PROUD OF YOU!!!
Dear Parents,
We are writing to you to offer our congratulations on your son/daughters' Junior Cycle Results which they received today. It was a difficult end to their Junior Cycle when their State exams were cancelled in June. However, each student worked very well over the subsequent weeks for their teachers to achieve the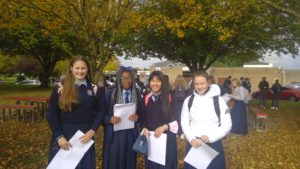 grades they received today. We would like to remind you that these results reflect the students' work over the three years of their Junior Cycle Programme.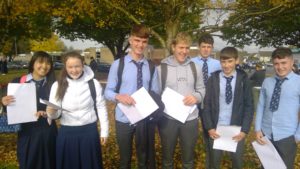 This year's group should not be the forgotten group just because they didn't sit a State exam, we're asking you that you spend some time today congratulating and acknowledging their hard work which led to their results. In the current circumstances it is difficult to celebrate or acknowledge these results, however, we are sure that where there is a will, you will find a way!
Again congratulations to all of our students on their achievements and perseverance to achieve such success.                               
Yours Sincerely,                       
Diarmuid Mullins       Niamh Floyd