Ethos
Characteristics of Jesuit Education
Characteristics of Jesuit Education – a summary.
Drawn up by an international group in 1986, to update the Radio Studiorum.
1. For Saint Ignatius, God is Creator and Lord. He is present in our lives "labouring for us in all things" … in all natural and human events, in history, and most especially in the lived experience of each person. Jesuit education is a means by which all can discover their destiny in God's image and begin the journey of sanctification. It includes a religious dimension that permeates its whole schooling. God is in all things. All learning and discovery transcend the immediate and evoke wonder and questioning, as well as the ability to learn how to learn.
2. Each person is known and loved personally by God. This love invites a response, and so we begin a search for the destiny and meaning of our lives in freedom and in the company of the other believers. So Jesuit education emphasises the uniqueness of each person and encourages a life long openness to keep growing … in search of the will of Him who loves unconditionally.
3. We inherit sin, we commit sin, there is sin in the wrong social structures which oppress. According to Ignatius, with the help of God's grace we are engaged in an ongoing struggle to recognise and overcome the obstacles that block freedom: the effects of sin in its different shades. Jesuit Education then, encourages a realistic knowledge, love and acceptance of self. It provides a realistic knowledge of the world and its structures. It enables students to assess values; those for the Kingdom of Christ, against those which glorify self and selfishness.
4. Jesus Christ is the model of human life. Because of his total response to His father's love and will He was without fault in fulfilling his destiny. Jesus invites us under the standard of the Cross to follow him in responding to the father's love. Jesuit Education then, proposes Christ as the model for life. It provides adequate pastoral care and religious knowledge instruction. It celebrates faith in personal and community prayer, worship and service .
5. Love is not a theory. It is shown in deeds. Ignatius asks that we pay the cost of commitment to the Gospel Way by our actions. Jesuit education then prepares for active life commitment to the values of Jesus Christ. Jesuit education stresses that love of God which does not issue in love of neighbour is a pious fraud.Our schooling wishes our pupils to be men and women for others who make all the significant decisions "from the perspective of the poor".
6. The Church is the instrument of Christ's grace and salvation through his Sacraments. Jesuit Education then, prepares students for active participation in the Church and the local community for the service of others.
7. Repeatedly Ignatius insisted on 'The Magis' – the more. His constant concern was for greater service of God through a close following of Christ. Jesuit Education pursues excellence in its work of formation and education. The highest standards in all things are to be our unceasing aspiration.
8. Ignatius formed a group of companions who with him gave themselves in service to Christ's Kingdom. A group of friends in the Lord can together be fruitful and life giving. Jesuit education relies on a spirit of co-operation, friendship and community among teaching staff, administrators, Jesuit community, governing and managerial bodies, parents, students, past pupils and benefactors. In the service of the Kingdom, team approaches are preferable to individual endeavours.
9. For Ignatius and his companions the practice of evaluating work and reviewing its "fruit" was very important, as a way of seeing whether efforts were still in accord with God's will and destiny. Jesuit education reviews itself and adapts means and methods to more effectively achieve its purposes. It seeks to promote a system of schools with common aspirations.
http://www.jesuitalumni.org/est/doc/chara-en.pdf The complete text of the Characteristics of Jesuit Education.
Return to top.
Ignatian Pedagogy: A Practical Approach. – a summary.
This 1993 document grows out of the 10 th part of the Characteristics of Jesuit Education in response to many requests for help in formulating a practical pedagogy, which is consistent with and effective in communicating the Ignatian worldview and values presented in the Characteristics document. It is essential, therefore, that what is said here be understood in conjunction with the substantive Ignatian spirit and apostolic thrust presented in the Characteristics of Jesuit Education. There are five main components in this paradigm, which are explained below. The central part of the paradigm is the experience, reflection and action components. These three always take place in a context and conclude with some type of evaluation, the other two components of the Ignatian Pedagogical Paradigm.
Context refers to the entire context in which Jesuit education occurs. Particular emphasis is given to the context of the student and the various elements which affect that context from the political situation within a country to the individual's strengths and limitations. Ignatian education always begins with this understanding of context because it is the starting point which Ignatius insists on for the making of the Spiritual Exercises. The Spiritual Exercises are always adapted to the characteristics of the individual making them.
Experience is the second element of the paradigm. Experience means all that the student brings to learning by way of experience and lack of experience. The teacher helps the student comprehend fully and understand completely what it is he already knows as well as assists in broadening her experience. Experience not only includes facts but also the feelings, values, etc., associated with the facts and the higher level thinking skills of analysis, synthesis, and evaluation.
Reflection is the third element in the Ignatian Pedagogical Paradigm. Through reflection the student comes to better comprehend and understand his experience and its implications in his life. Reflection is the pivotal point in this paradigm to help the student move from experience to action. Reflection in the Ignatian Pedagogical Paradigm always calls for some kind of action. Reflection frequently is lacking in the educational process, yet its importance is regularly stressed in general educational circles today.
Action is the fourth component in the Ignatian Pedagogical Paradigm. Action means that as a result of reflecting on an experience the student is moved to some type of action. That action may be different given the particular content and elements within it, but the implicit idea is that action is always a step toward greater service of others based on the love of God. These actions may be quite small and not immediately lead to radical transformation, but they contribute to the process. It is important to note that while these three central elements of the paradigm are analysed separately for discussion that they can be working simultaneously. Ignatian Pedagogy comments upon this:
• The continual interplay, then, of EXPERIENCE, REFLECTION and ACTION in the teaching-learning dynamic of the classroom lies at the heart of Ignatian pedagogy. It is our way of proceeding in Jesuit schools as we accompany the learner on his or her journey of becoming a fully human person. • Evaluation is the fifth component in the Ignatian Pedagogical Paradigm. Evaluation refers not only to academic evaluation but also to fuller types of evaluation where the student and teacher reflect upon the broader spectrum of personal growth and commitments. The Ignatian Pedagogical Paradigm stresses that the evaluation include some type of systematic analysis of how a student is growing in becoming a 'person for others. The text of the 1993 Ignatian Pedagogy – a practical approach. http://www.sjweb.info/education/doclist.cfm
Iconography
Iconography in the School :
AM+DG
An abbreviation for the Latin Ad Maiorem Dei Gloriam (for the greater glory of God). This was an abbreviation used by Ignatius and Jesuits worldwide, and is a reminder that God is to be found in all things . At Crescent we have adopted the Tempus Sans ITC style shown at the start of this paragraph.
School Crest: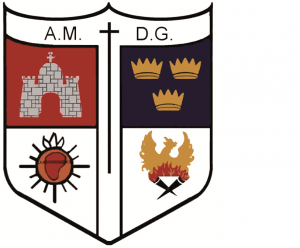 1. On the top panel is the motto AM+DG.
2. In the top left hand box is a castle, the emblem of Limerick city whose motto is ' Urbs Antiqua Fuit Studiisque Asperrima Belli" – an ancient city well versed in the arts of war . It is not known exactly when, or by whom, the city motto was chosen. It is a quotation from Virgil's Aeneid and was quoted during the time of the sieges in the mid 17th century.
3. At the top right hand corner are the three crowns of Munster.
4. At the bottom left hand is the emblem of the Sacred Heart College, the Crescent, the precursor of the school. The emblem shows the heart of Jesus, pierced by a crown of thorns, which has paid the price of love, and is unvanquished. It is a sign of Gods mercy and love, and recalls the invitation in the Bible, in Ezekiel to change our 'heart of stone' into a 'heart of flesh.' In the book of Samuel 167 we read: "God does not see as man sees; man looks at appearances but the Lord looks at the heart.'
5. The bottom right hand corner shows the Eagle from the crest of Mungret College 1882 – 1975. The eagle recalls the passage from the Psalm 103 "Bless the Lord my soul, who fills your life with good things, renewing your youth like an eagle's . Underneath we read the school motto: ' Crescentes in illo per omnia'. Literally this means 'growing in Him through all things, and is based on Colossians 1:10 And we pray this in order that you may live a life worthy of the Lord and may please him in every way; bearing fruit is every good work, growing in the knowledge of God .
Jesuit Terms
Glossary of Jesuit/Ignatian Terminology
Ad Maoirem Dei Gloriam
'For the greater glory of God' is the motto of the Society of Jesus.
Characteristics of Jesuit Education
This document, produced in 1986, elaborated the twenty-eight characteristics of Jesuit Education.
Colloquium:
A conversation or dialogue between people is one of the Foundational Ignatian insights . An expression of this would be the 'Colloquium on the Ministry of Teaching' where teachers spend a number of days together exploring teaching as a ministry.
Examen:
Also known as 'examination of consciousness' or 'awareness examen', this structured review of each day, developed by Ignatius, is employed to discover God's movements and action within one's daily life.
Foundational Ignatian Insights:
Recent scholarship has highlighted four insights that occupy a central place in Ignatius' way of proceeding:
Conversation,
Life-generating dreams ( id quod volo )
Helping others, and
Seeking and finding God in all things.
Ignatian/Jesuit
Something is said to be 'Ignatian' when it is grounded in the spirituality, ethos or world view of Ignatius. Thus some schools or religious orders describe themselves as 'Ignatian' but not 'Jesuit'. Jesuit refers to that particular 'Ignatian' manifestation found in the Jesuit order (Society of Jesus) or in ministries owned and directed by them.
Ignatian Pedagogical Paradigm
The Ignatian Pedagogical Paradigm is the model of the teaching/learning process in all schools which claim to be Ignatian, which includes the central cycle of the elements experience, reflection, action, taking place in a particular context and always subject to evaluation. The IPP was initially outlined in Ignatian Pedagogy: A Practical Approach published in 1993.
Loyola
Saint Ignatius was born in the town of Loyola in northern Spain.
Magis
The yardstick of Ignatius was always to undertake that which was 'the better choice', 'the more effective enterprise', 'the more widely influential'. 'meeting the greater need', not simply because such a course was harder, but because it would yield 'the greater good' or be more loving. This is the essence of the magis.
Manresa
Ignatius gained most of his spiritual insights in this small village in northern Spain where he lived for a time after his conversion In some European countries 'to make a Manresa' means to go on retreat.
Province
All the Jesuits in Ireland belong to the Irish Province.
Provincial
The Jesuit, for a six-year term, who is the leader of a Province of Jesuits.
Ratio Studiorum
The Ratio is a 'plan of studies' for Jesuit schools developed during the latter half of the sixteenth century and used universally in Jesuit colleges until the time of the suppression.
Repetition
A traditional Jesuit teaching methodology. It is the time afforded to reviewing a subject for a deeper appropriation and understanding of the material covered.
Retreat
A number of days (usually from three to thirty) spend in prayer/reflection with a director, often following the pattern of the Spiritual Exercises, frequently and liberally adapted for school students.
Society of Jesus
The English translation of the name of the Jesuit order. In Latin Societatis Iesu, in Spanish Compania de Jesus.
Spiritual Exercises
A retreat (usually for thirty days, broken up into four 'weeks') developed by Ignatius, which employs an ordered sequence of prayers and contemplations, often undertaken when the retreatant wishes to make a choice in life towards greater love and service of God.
Phrases
Contemplatives in action
Ignatius 'in all things, actions and conversations he perceived and contemplated the presence of God and had an affection for spiritual things, being contemplative even while in action – a matter which he explained by saying 'God must be found in all things.
Friends in the Lord
The description that the first companions gave themselves when they were discerning the direction of their common life together.
Helping souls
This is one of the most frequent expressions to be found in Ignatius' writings. By 'soul' Ignatius meant the whole person, so that people could be helped by proving food for the body, learning for the mind or provision of the sacraments.
Id quod volo
Ignatius stressed that in coming to prayer one should articulate 'that which I desire'. Identifying one's dreams and desires is one of the so-called Foundational Ignatian insights .
Men and Women for others
The phrase first appears (in a non inclusive form) in Jesuit General Pedro Arrupe's letter to the international conference in Valencia (1973), where he exhorts all alumni to use their figts and talents in the service of others.
Service of faith and the promotion of justice
The 32 nd General Congregation of the Society of Jesus (1975) spelt out the Society's mission today in the strongest terms: 'The mission of the Society of Jesus today is the service of faith, of which the promotion of justice is an absolute requirement. Reconciliation with God demands the reconciliation of people with one another.
Class Names
Sanchez , Blessed Fernando, Scholastic, Martyr of Brazil (January 19 th ). Fernando or Hernan was a scholastic, native of Old Castile, who was one of the forty Jesuits martyred at sea on 15 th and 16 th July 1500, near Santa Cruz de Las Palmas, en route to Brazil under the leadership of Blessed Ignatius Azevedo. Their ship was capture by Huguenot pirates, who spared the crew, but killed all the Jesuits, except the Jesuit cook, whom they needed on their own ship. Fernando was wounded and thrown overboard to drown. The Jesuit cook escaped from the pirates in France and made his way back to Spain and to the Society. The 31 Portuguese and 8 Spaniards have all been beatified. In 1970 the Brazil government issued a series of stamps to commemorate the 40 martyrs.
Suarez , (or Soares) Blessed Antonio, Scholastic, Martyr of Brazil (January 19th). Antonio was a Portuguese scholastic from Villa de Trancoso, who entered the Society on 5 th June 1565. He was one of the forty Jesuits martyred at sea on 15 th and 16 th July 1500, near Santa Cruz de Las Palmas, en route to Brazil under the leadership of Blessed Ignatius Azevedo. Their ship was capture by Huguenot pirates, who spared the crew, but killed all the Jesuits, except the Jesuit cook, whom they needed on their own ship. Antonio was gravely wounded and thrown overboard. . The Jesuit cook escaped from the pirates in France and made his way back to Spain and to the Society. The 31 Portuguese and 8 Spaniards have all been beatified. In 1970 the Brazil government issued a series of stamps to commemorate the 40 martyrs.
Southwell , St. Robert, Priest, Martyr of England and Wales (December 1 st ) (1561 – 1595 ) Robert was born at Horsham St. Faith's, Norfolk, England, in 1561 He was sent to be educated at Douai in Belgium, and he joined the Jesuits in 1578. He was ordained priest in 1584 at Rome, and became Prefect of Studies (Head) in the English College in Rome. Throughout his life Robert wrote poetry, which was published widely, and is still included in anthologies today. Jesuit poet
After ordination Robert left Rome for England with Fr. Henry Garnet. Both were almost arrested upon landing but escaped capture and went on to work with the Catholics in London.
Robert spent six years in zealous and successful missionary work and moved under various disguises travelling from one Catholic house to another. He belongs to that band of Jesuit English martyrs during the persecution of Catholics from 1535 to 1681 who were determined not to abandon the Catholic laity, but to be with them, providing the consolation of the Eucharist. Robert's father had conformed to the new Protestant religion.
Finally Robert was betrayed in 1592. Robert never gave any information about other priests or Catholics, even though for three years he was interrogated under atrocious torture. He was transferred to Newgate prison where he was confined in a dungeon swarming with vermin and frequently chained in such a way that he could neither stand, sit nor lie down. His jailers were exasperated at his answers.
Robert was hanged at Tyburn, 21 February 1595. For further information of Robert Southwell, including an anthology of his poetry, consult http://www.luminarium.org/renlit/southwell.htm
Spinola, Blessed Carlo, Priest Martyr of Japan (February 4 th ) (Italian: 1564-1622) was a missionary to China who died a martyr's death during the Great Martyrdom of Nagasaki on 10 September, 1622.. Charles had entered Japan to assist the Christians during this frightful 'Great Persecution' under emperor Iycyasu. He eluded priest hunters for three years but was finally captured and brought to a prison near Nagasaki. The Christians in Nagasaki bribed some of the guards to supply Carlo with all that was needed for saying Mass, so that Charles celebrated Mass every day for his fellow prisoners. After four years of this Charles was taken to Nagasaki and burned to death.
Sullivan John (Ireland 1862 – 1933).. The Servant of God, John Sullivan, SJ. John Sullivan was born in Dublin in 1861, son of the Lord Chancellor of Ireland. Though his mother was a Catholic, John grew up in the Anglican faith of his father, following the custom of the time. After an outstanding academic career at Portora Royal School in Enniskillen and at Trinity College Dublin he entered the legal profession and was called to the bar. His spiritual search led him to join the Catholic Church in 1896 and the Society of Jesus in 1900. As a priest his intense devotion to prayer and his love for the poor and sick drew many people to him. Many miraculous cures were attributed to his prayer both during his life and since. When he died in 1933 many people, especially those who lived around Clongowes, were convinced that a saint had died. He was first buried in the community cemetery in Clongowes. Then, as the cause for his beatification moved ahead in response to public devotion, his remains were transferred to St. Francis Xavier's Church, Gardiner St., Dublin. Many people visit his tomb in Dublin – and the cemetery where he once rested in Clongowes, asking his intercession especially in times of difficulty.
Rahner , Karl (German 1904 – 1984) He was theology professor in Munich. His books, including Spirit in the World are a major influence today in theology, and on modern thinking. His ideas on pluralism, ecumenism and the future shape of the Church especially remain significant today.
Rhodes , Alexander de (French 1591 – 1660) Alexander worked in Indochina (Vietnam) in the area of Hue and Danang, where he studied and respected the local customs and language. He compiled the first dictionary and grammar of the language of the region. He insisted on the development of a native clergy and 300,000 Vietnamese people were baptised. Alexander died in Persia, where he was esteemed, and mourned by the Shah.
Rodriguez , Saint Alphonsus, Brother (October 31 st ) (1513 – 1617) Alphonsus joined the Jesuits on the death of his wife, and worked as the porter at the Jesuit College in Majorca. He had a reputation for holiness. He was a good listener, and people came from far and near to seek his advice. He influenced St. Peter Claver to become the apostle to the slaves in South America.
Ricci , Matteo- Servant of God (Italy 1552- Beijing, China 1610). Although China was almost closed to outsiders, Matteo spent 27 years there, and eventually he gained entry to the Emperor's court. He become the court Mathematician, and compiled the first maps of China. Matteo's success was due to his personal qualities, his complete adaptation to Chinese customs and to his authoritative knowledge of the sciences. He is remembered for his Chinese works on religious and moral topics as well as works on scientific topics such as the astrolabe, sphere, arithmetic, measure and isoperimeters. For four centuries, even through the terrible Communist persecution, the massive eight-foot tomb of Matteo Ricci was carefully preserved.
Regis, Saint John Francis (French: 1597-1640). When he became a Jesuit, John requested the mission of evangelizing the fallen-away Catholics of the interior of France, which still suffered from the sad effects of the Wars of Religion – that civil strife between French Calvinists and Catholics. Since a good portion of southern France had been under the control of the Huguenots, the Catholics in those areas had been forced to abandon the practice of their faith. Their churches had been destroyed and their priests slain. Now that peace returned to the country, it was the task of the home missionary to rekindle the faith that had once been there. John travelled through many towns, even climbing difficult mountains, to carry God's message. He consoled the disturbed of heart, visited prisons, collected clothing and food for the poor, and established homes for those who needed protection. His influence reached all classes and brought about a lasting spiritual revival throughout France. Numerous miraculous cures of the sick effected during his lifetime continued to occur after John's death. Many institutions are named after John Francis Regis.
Arrupe, Pedro S.J. Basque-born Fr. Arrupe joined the Society of Jesus in 1927. Because of the order of expulsion by the Republican government of Spain at the time, all Jesuits were sent into exile. Accordingly he pursued his philosophical and theological studies in Belgium and the Netherlands. Ordained a priest in 1936 and sent off for doctoral studies in medical ethics in the United States, he was unexpectedly sent as a missionary to Japan in 1939.
He was appointed Jesuit superior and the master of novices in Japan in 1942. He was living in suburban Hiroshima when the atomic bomb fell in August of 1945. He described that event as "a permanent experience outside of history, engraved on my memory." He utilized his medical skills in the service of the wounded and the dying, transforming the novitiate into a make-shift hospital for over 200 greviously scarred human remnants. He eventually was appointed the provincial superior of the Jesuits in the Japanese province.
At the 31st General Congregation of the Society of Jesus in 1965 he was elected to be the order's 28th Superior General. He served in that position from 1965 to 1981. While General he made the care of refugees a special concern of the Jesuits and founded the Jesuit Refugee Service. http://www.jesref.org
On August 7, 1981 after a long and tiring trip throughout the Far East Fr Arrupe suffered a stroke just after his airplane had landed at Rome's Fiumicino Airport. He was paralyzed on his right side and was able to speak only a few words, but this ability gradually deteriorated until he was completely mute. From that time on he lived in the infirmary at the Curia. His only form of communication with the Jesuit Brother, his constant companion, was with his eyes or hand pressure. Arrupe resigned due to ill health in 1983 and was the first (and only) Jesuit superior general to resign instead of remaining in office until his death.
The 33rd General Congregation was called to deal with the resignation of Arrupe and the election of a successor.During the opening Session of the Congregation Fr Arrupe was wheeled into the hall, and a powerful prayer which he had been written was read out:
More than ever I find myself in the hands of God. This is what I have wanted all my life from my youth. But now there is a difference; the initiative is entirely with God. It is indeed a profound spiritual experience to know and feel myself so totally in God's hands.
Arrupe died at the Curia on February 5, 1991 in his 84th year.
Ogilvie , St. John, Priest Martyr of Scotland (October 14 th ) (1579 – 1615) (Scottish: 1579-1615) John was brought up a Calvinist. Upon reaching his 17th year, he determined to become a Catholic and went to Louvain, Belgium, where he joined the Jesuits and was ordained in Paris in 1610. He returned to his native Scotland in 1613 to begin a brief missionary career that lasted only 11 months and ended in martyrdom. In Edinburgh and Glasgow he worked underground avoiding the Queen's priest-hunters, disguised as a soldier by the name of Watson. Ogilvie was captured and put in prison. Because he refused to divulge the names of the Catholics who had attended his Masses, his captors applied an extreme measure of torture.
Hopkins, Gerard Manley, Priest and Poet (England 1844 – 1889). As a student at Oxford Gerard was received into the Catholic Church by John Henry Newman. He joined the Jesuits in 1868. He taught in the Lancashire Jesuit school of Stonyhurst before becoming professor of Greek literature at the new university in Dublin. Today he is remembered as a poet, and many of his poems draw on the spirituality of the Spiritual Exercises.
Mayer , Blessed Rupert, Priest, Apostle of Munich (May 3 rd ) (1876 – 1945) Rupert was ordained as a diocesan priest in 1899 and joined the Jesuits in Austria one year later. His early work was among the poor in Munich, and during the First World War he served as a chaplain, and was decorated with the Iron Cross for bravery. While trying to protect a wounded soldier he was injured and had his left leg amputated. After the war he returned to Munich, where he found even greater poverty than before, and he founded a sodality that numbered 7000 men. When Hitler came to power in 1933, Fr. Rupert strongly opposed him and he was ordered to stop speaking in public. Rupert felt that this did not prevent him preaching against the Nazi party, and two weeks later he was arrested for his opposition to Nazism. He was given a suspended sentence, provided he did not speak out, and when Rupert did speak out again, he was rearrested and had to serve his sentence. Later he was rearrested and sent to the concentration camp at Sachsenhausen. The Nazis feared the death of a national hero and holder of an Iron Cross in prison, so they confined him, incommunicado, at a Benedictine Abbey in the Bavarian Alps. At the end of the war Rupert was liberated by Allied forces, and died a few months later. The people of Munich, preserved his reputation as a saint, and today his tomb is a place of pilgrimage. He died on November 1 st , the feast of All Saints.
Fielde : Thomas Fielde (Field/Fields/Fihilly) was born in Limerick in 1549. He was the son of William, a medical doctor, and Geneth nee Creagh. He studied humanities at Paris and Douai and philosophy at Louvain. Thomas entered the Society of Jesus at Rome on 6 th October 1574. He studied theology at Brazil and was ordained at Bahai in 1580. His first missionary assignments were in Brazil, where he learned the Tupi language, and in Argentina. In 1588 he went to Paraguay, because the Guarani language is very like Tupi. He worked closely with Fr. Manuel Orgega, often under very difficult conditions and with, at times, wretched health. Both of them were keen on founding reductions because they thought it would help the Guarani, who were so open to the Gospel. The Jesuits came to Paraguay in 1609, built settlements for the Indians and taught them everything from agriculture to architecture. Jesuits arrived in Paraguay in 1610 and built settlements – "Reductions" – for the Indians in order to combat the widespread slave trade. They taught them everything; literature, art, music, agriculture, construction, architecture, metallurgy, farming and ranching. This Utopia was suddenly destroyed by the avarice of the slave traders who were able to influence the Spanish crown. By the time the Jesuits were expelled from Paraguay in 1767 there were 57 settlements which included 113,716 native people. These Reductions were called "one of the most altruistic ventures in human history" by Rousseau, hardly a friend of the Jesuits. The History of Latin America would have been quite different if this unquestioned form of democracy had been allowed to develop according to its own momentum, 100 years ahead of its time. Fielde took his final vows on 10 th March 1613 at Asuncion, Paraguay, and died there on 15 th March 1625. His life is outlined in Studies Vol. XXI No 82
(June 1932 by Awbrey Gwynn S.J.
de Brebuf, Jean Saint North American Martyr . (French 1593-1649). At the age of 32 John was sent by his superiors to Canada, where he learned to love the Huron people, and wrote a Huron catechism, and Huron-French dictionary. His new life sometimes involved canoe journeys of 800 miles, and because of his strength the Hurons called him Echon, meaning load bearer . He was caught in the middle of a fierce fur trade war between the Hurons and the Iroquois Indians. Iroquois overran the village where he lived and Jean was captured, tortured and martyred by them on 16 th March 1649. One of his sayings was 'you must love these Hurons, ransomed by the blood of the Son of God, as your brother'.
Bellarmine , St. Robert, Priest Cardinal (September 17 th ) (Italian 1542 – 1621) Cardinal and Doctor of the Church, and one of the most learned men of his time. As a Cardinal he set about to root out the abuses inside the Catholic Church, which gave the Reformers grounds for their criticisms. Robert presented to Pope Clement VIII a denunciation of the major abuses prevalent in the Pope's own Roman Curia. He pointed out that the Pope was not the Church's overlord but its administrator. Galileo invited Robert to see the newfound wonders of the sky in his telescope and later Robert turned to Jesuit scientists to confirm Galileo's findings. This resulted in Robert's gentle treatment of Galileo at his famous trial – which leniency did not please the Holy Office
Berchmans , St. John, Scholastic (November 26 th ) (Belgian: 1599-1621) When he was sent to Rome to study theology John had to walk the entire 800 miles from Antwerp to Rome. ". Hoping to serve the multilingual migrants overrunning the continent at that time, John resolved to learn all the chief languages of Europe and he demonstrated great linguistic ability. In Rome he died before his ordination and immediately after his death many of the Roman laity familiar with his scholastic ministries began to venerate him as a saint. John was noted for his good-natured disposition who "did nothing extraordinary, but did ordinary things extraordinarily well
Bobola , St. Andrew, Priest, Martyr of Poland (May 16 th ) St (Polish: 1591-1657) suffered one of the most painful martyrdoms ever recorded. Andrew became an outstanding preacher and directed Sodalities from which he recruited assistants to help him in his visits to prisoners, to the poor, in catechising and helping victims of plagues. Two entire villages returned to the Catholic Faith through his preaching. Then, in May, 1657 the Cossacks attacked Janów and massacred Catholics and Jews. They arrested Andrew and threatened him with torture unless he converted, and he died a martyr' death.
Borgi a, St. Francis, Priest, Third General of the Society (October 3 rd ) (Spanish: 1510-1572). Before he became a Jesuit Francis was the father of a family of eight children. He was a friend and adviser of Ignatius of Loyola. In 1560 he succeeded Laynez to become the Society's third Superior General. He was concerned that Jesuits were in danger of getting too involved in their work, so he introduced the daily hour-long meditation. Under his generalship the Society established its missions in Florida, New Spain and Peru. Francis is sometimes called the Second Founder of the Society of Jesus .
Briant, St. Alexander, Priest and Novice, Martyr of England (December 1 st . ) (English: 1553 – 1581) Alexander entered the Society of Jesus while in the Tower of London awaiting execution along with Edmund Campion. At that time Catholic priests were prohibited under pain of death from preaching in England. The authorities wanted Alexander to tell them where they might find the Jesuit Fr. Robert Parsons, but in spite of torture, he refused. .From prison, Alexander smuggled out a letter to Robert Parsons. The Jesuits had devised a clever method of using invisible ink made of common orange juice. It was a letter of exceptional beauty, expressing his desire to be admitted into the Society. Alexander was accepted into the Society and after completing his novitiate in the Tower of London, was executed at Tyburn minutes after Edmund Campion.
Campion , St. Edmund, Priest, Martyr of England (December 1 st ) (English: 1540-1581) was a great disappointment to Queen Elizabeth. As a student at Oxford he became a most sought after speaker and on one occasion he so impressed Queen Elizabeth that she offered him a deaconate in the new state religion. He eventually fled to the continent, where he joined the Jesuit Order. After ordination he returned to London and there he wrote a manifesto of his mission which has come to be known as Campion's Brag in which he declared that his coming to England had a religious and not a political purpose. Eventually he was captured and taken to the Tower of London where he was stretched on the rack before execution. Many were very touched by the words in Campion's Brag : "And touching our Society, be it known to you that we have made a league – all the Jesuits in the world – cheerfully to carry the cross you shall lay upon us, and never to despair your recovery, while we have a man left to enjoy your Tyburn, or to be racked with your torments or consumed with your prisons. The expense is reckoned, the enterprise is begun; it is of God, it cannot be withstood. So the faith was planted; so it must be restored."
Canisius , St. Peter Priest, Doctor of the Church (April 27 th ) (Dutch: 1521-1597) Canisius was one of the first Jesuits, and was the first Jesuit to publish a book, the first to found a university and the first Jesuit university president. In 1550 he entered Germany with only two Jesuits, but by 1580 their number had grown to 1,110.
Among the 37 books he wrote is his concise, lucid catechism, which became a best seller, circulated in 15 languages. Centuries later one could still hear " Have you learned your Canisius? " Canisius found the effect of the Reformation on Catholics devastating. This calamity was apparent in an abysmal ignorance of the faith on the part of the laity as well as the clergy, whom he described as: "a scandal before God and the whole world." The more hopeless the situation seemed to be, however, the more energetic he became, stressing the need for education. He was instrumental in the founding of 18 colleges in as many cities with strong emphasis on academic excellence, insisting: "Better a college without a church than a college without a library."
Castillo , Francisco del, (Peru) Venerable (1615 – 1673). He ministered to the poor and prisoners of Lima, and founded a school for the poor. He then founded a 'School of Christ' for powerful people who wanted to help the sick and prisoners.
Chabanel , St. Noel, Martyr of North America (October 19 th . A Jesuit missionary among the Huron Indians, born in Southern France 2 February 1613; slain by a renegade Huron, 8 th December 1649. Chabanel entered the Jesuit novitiate at Toulouse at the age of seventeen, and was professor of rhetoric in several colleges of the society in the province of Toulouse. He was highly esteemed for virtue and learning. In 1643 he was sent to Canada and after studying the Algonquin language for a time, was appointed to the mission of the Hurons, among whom he remained till his death. In these apostolic labours he was the companion of the intrepid missionary, Father Charles Garnier. As he felt a strong repugnance to the life and habits of the Indians, and feared it might result in his own withdrawal from the work, he nobly bound himself by vow never to leave mission and he kept his vow to the end. The novelist Brian Moore based Black Robe and the film of the same name on Chabanel's life. He died around 7 th December 1649. For a six-page account of his life consult http://www.wyandot.org/chabanel.htm
Claver , St. Peter, Apostle of Slaves. (September 9 th ) (Spanish: 1580-1654) worked for 35 years helping to alleviate the sufferings in Cartegena, Colombia, South America, of the despicable slave trade. He referred to himself as "the slave of the slaves forever." His missionary vocation had been inspired by a Jesuit Brother, St. Alphonsus Rodriguez, S.J., who urged him: "Your mission is to the West Indies. Why don't you go there and work for the Lord. When the slaves caught sight of him they used to clap their hands by way of salute. Peter managed to convince the local authorities to issue a law that no new arrivals be baptized until they received adequate instructions. He then used this law to delay their departure into a life of slavery by prolonging his catechism classes, much to the chagrin of the slave dealers. Peter also irritated the wealthy citizens who came for the sacrament of Penance and found that they had to wait in line along with the slaves. Many of his own community were decimated by the plague that was ravaging Cartagena, and eventually Peter was struck down and unable to continue his apostolate for the last few years of his life. He was esteemed as a saint in his own time and stories of his miracles were commonplace. When he died fervour seized the whole city to honour him as a saint. Crowds who came to venerate his remains besieged the Jesuit College. Slaves came from all parts of the city and neighbouring towns. He was declared the Patron Saint of African missionaries
Lainez , Diego (Spanish: 1512-1565) was a one of the first seven companions of Ignatius Loyola, and later became the second Superior General of the Jesuits. Diego was one of the great men of the Catholic Counter Reformation. As Superior General of the Jesuits he assisted the pope in carrying out the reforms of the Council of Trent.
Lalemant , St. Gabriel, Martyr of North America (October 19 th ), a Jesuit at nineteen, ordained at twenty-seven, a scholar and professor and College administrator. He was delicate in body and had a strong desire to work on the Mission to the Huron Native Americans. After two years in Canada he left for Huronia, and in seven months he was able to speak the Huron language. For one month he as assistant to Brebuf, and then his companion in martyrdom for seventeen hours. He died on March 17 th 1649 at Ste. Ignace. He summed up his own strength. 'My strength is the strength of God. In Him I can do all things.'
Lewis , St. David, (English Priest Martyr of England and Wales 1617-1679) (December 1 st ) became a victim of the so-called Titus Oates plot. Titus was twice expelled from European Jesuit schools and was later refused admission into the Society, so he spread the story that the Jesuits were plotting to overthrow England's king and make the country Catholic once again, thereby depriving many landowners of the estates confiscated from Catholic lands. After David's arrest, one of his examiners was Titus Oates who was unable to make any charge stick, but David was condemned anyway. He then gave such a moving speech at the gallows that it was later published. "I believe you are here met not only to see a fellow-native die, but also with expectation to hear a dying fellow native speak. I suffer not as a murderer, thief, or such like malefactor, but as a Christian, and therefore am not ashamed.
St. Ignatius Loyola, S.J. (Basque: 1490-1556) is the founder of the Society of Jesus, the author of the Spiritual Exercises , and the Patron Saint of all Jesuits. Iñigo de Oñaz y Loyola was born in the Basque hill country, the youngest of 11 children. He received only a superficial education, and was mainly interested in sports and military prowess. While defending a fort in Pamplona his leg was broken. During his convalescence he underwent a remarkable conversion and was determined to imitate the saints and to become a knight in the service of God. Ignatius was canonized in 1622.
Lugo , John de (Spanish: 1583-1660) taught theology and brought to the lecture halls of the College of Valladolid elegant expression, clear expositions and profound doctrine. John taught at the Roman College from 1621-1643 and then was made a cardinal.. One of his works was Justice and Law , which had a great influence on other theologian. Cardinal John de Lugo was a staunch promoter of the quinine that Jesuit missionaries in Peru sent to Rome. De Lugo was convinced that it was a priceless gift of God for the cure of malaria, so prevalent in Italy that cardinals dreaded going to Rome for papal elections for fear of contracting it.The name Jesuits' powder became synonymous with the bark since the Jesuits had done so much to popularize it as a remedy for malaria. Only in 1742 did Swedish botanist Carolus Linnaeus rename it cinchona in memory of the wife of the Peruvian viceroy who (mistakenly) was said to have brought it to Europe in 1640.
Lopez
Father Joaquín López y López was born in Chalchuapa, El Salvador on August 16, 1918. He entered the novitiate with Mexican Jesuits in El Paso, Texas in 1938. Father López y López began his theological studies in the United States and completed them in Spain in 1951. He took his vows with the Society of Jesus in 1952. A few years later, Father López y López began efforts to create the Universidad Centroamericanos (UCA). In 1969, together with a group of women, he raised funds and created the organization Fe y Alegria (Faith and Joy), which he directed until his death. During that time, 30 educational centers were opened in marginalized communities across the country and 48,000 people received vocational training and education. Father López y López considered the work of Fe y Alegria to be crucial in addressing the lack of education in El Salvador, one of the most pressing problems in the country. Having refused to go into hiding on 16th November, 1989, in the early morning, Lopez was murdered by Salvadoran Militia at his university residence, along with five of his fellow jesuits and a mother and daughter to whom they had been offering temporary accommodation. On 16th November 2009 the President of El Salvador, Mauricio Funes, announced that his government would bestow its highest honour, the Order of José Matías Delgado, posthumously, on the six Jesuits who were murdered twenty years ago on that same date.
Jesuit Connections
Irish Jesuit Connections
Belvedere College
Pupils: 867 Boys. Headmaster: Gerard Foley Address: Great Denmark St., Dublin 1
Phone: (01) 874 4795 Fax: (01) 874 4374
Email: admin@belvederecollege.ie Web Site: http://www.belvederecollege.ie/
Clongowes Wood College
Pupils: 446 Boys, boarding students. Headmaster: Leonard Moloney, SJ Address: Clongowes Wood College, Naas, Co. Kildare
Phone: (045) 868202 Fax: (045) 861042
email mailto:reception@clongowes.ie Web Page: http://www.clongowes.com/
Gonzaga College
Pupils: 516 Boys. Headmaster: Patrick Potts Address: Sandford Road, Ranelagh, Dublin 6
Phone: (01) 497 2931 Fax: (01) 496 7769
Email: office@gonzaga.ie Web Page: http://www.gonzaga.ie/
Coláiste Iognáid
Pupils: 611 Girls and Boys. Headmaster: Pádhraic Lydon. Address: 24 Sea Road, Galway
Phone: (091) 501550 Fax: (091) 501551
Email: admin@iognaid.ie Web Page: http://www.colaisteiognaid.gaillimh.edu.ie/
Crescent College Comprehensive
Pupils 878 Girls and Boys. Headmaster: Nicholas Cuddihy. Address: Dooradoyle Road, Limerick.
Phone (061) 229655. Fax: (061) 229013.
Email: cccadmin.ias@eircom.ne Web Page: http://old.crescentsj.com
Jesuit Education Office
Loyola, 87 Eglinton Road, Dublin 4. Delegate: Mr. Brian Flannery. Telephone: 01 2696651.
Manresa Retreat House
Manresa House, Dollymount, Dublin 3. Director: Fr. Laurence Murphy S.J.
Telephone 01 833 1352.
Web Page: http://www.jesuit.ie/manresa
Centre for Faith and Justice
6 Upper Sherrard Street, Dublin 1.Director: Mr. Eugene Quinn. Telephone: 01 855 6814.
Does research and provides advocacy, and publishes Working Notes several times a year.
Web Page: http://www.cfj.ie/
Jesuit Communications Centre
36 Lower Leeson Street, Dublin 2
Jesuit publications include An Timire, Studies, The Irish Messenger, the electronic magazine AMDG, and the Irish Jesuit Website http://www.jesuit.ie/main/
Communications Officer: Ms. Pat Coyle.
Sli Eile
Directors: Fr. Rory Halpin S.J., Debbie Moore. 20 Upper Gardiner Street, Dublin 1
Telephone 01 888 0606 Web Page: http://www.sli-eile.com
A faith support group for young adults, which arranges Volunteering, provides a yearlong volunteer community, and organises open events and a faith discovery programme.
AMDG – an Irish Jesuit emagazine: http://newsletter.jesuit.ie/
Irish Jesuits : http://www.jesuit.ie
Irish Jesuit Vocations: http://jesuitvocations.ie
The Crescent Nature Garden: http://homepage.eircom.net/~cccnaturegarden/index.htm
rship role in the emerging independent Ireland.