Each year our students collaborate in a number of ways with Our Lady of Lourdes NS with whom Crescent has a special link over many years.
This year so far our students have taken part in a 'Wellbeing' Table Quiz and in the annual Christmas Market.
The Table Quiz was held on 14th November and our First Year students were delighted to return to their 'old' school to meet teachers and friends. Teams were mixed with some from CCC, and some from the primary school on each team. The quiz is an initiative of the Local Education Committee and was based on the Committee's theme for this year which is Wellbeing. Every round of the quiz had a question about mental health, such as "Anyone can have depression, true or false" or "When you have a problem you should never talk to anyone about it, true or false" and students showed they understood these issues well in their responses. Great fun and learning was had by all and our First Year students did us proud.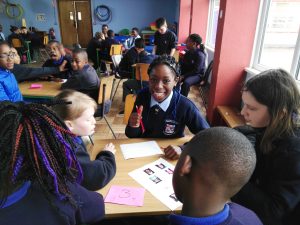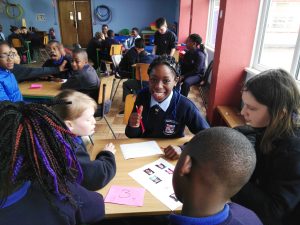 The Christmas Market took place on 6th December in the Primary School hall. Our TY students had been preparing for weeks, painting backdrops and making a decorative wooden photo-frame for our stall this year which was a Christmas Photo-Booth. The group did fantastic work on the day, managing the props, taking and printing the photos and putting them in decorative cards to be taken home and displayed, collecting money and of course chatting to customers. At 12 p.m. Santa arrived and shortly after that our First Year Group sang two carols to an attentive audience. For many students it was a place to meet brothers, sisters, cousins and extended family and the collaboration between schools was a great success. Thanks to all our TY and 1st Year students who did a great job.