Ash Wednesday in Crescent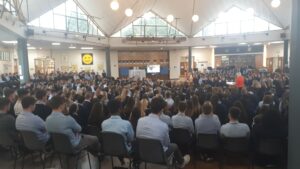 This morning we gathered in the Central Area to celebrate mass and receive ashes.
Fr Jim Maher SJ was the celebrant and we are always happy and grateful to Jim for his commitment to our liturgies and his homilies.
Fr Maher told the congregation that 'wearing ashes is similar to wearing the school uniform: it reminds us of who we are, what we stand for. We want to be people who are kind and caring, to welcome friendships into our lives, to be treated with respect and to give respect to others, to broaden our horizons by our learning in class, to be appreciated for who we are and to appreciate others for who they are.
Sometimes we fail and say and do things we're not proud about, so on Ash Wednesday we renew our commitment to what we believe in.'
Music was provided by our Orchestra and choir who did themselves proud and added considerably to proceedings.
Our students read reflections, reminding us that 'Lent encourages us to do something different.
For the next 40 days we could all make an effort to remove things which harden our hearts.
We could give up something we enjoy.
We could go to Morning Prayer at the beginning of the day to say a prayer and reflect and then take notice 'is my life different when I pray'
We could gather money for our Trocaire box.
We could give time, to a person, who needs to talk.
We could change the way we impact our school environment.
We could contribute to the school's campaign to buy Mosquito nets for a fellow Jesuit school in Uganda.
We could make an effort to show that God is important in our lives.
We show this today in the wearing of Ashes'.