We will be represented at the Regional Finals of the European Space Agency Cansat Competition which is due to take place on 27 March 2019. A cansat contains components of a satellite inside a can which is the size of a standard drinks can. The challenge is to fit the essential components (sensors, power supply, radio transmission communication ) into the confined volume of the drinks can. The can will be dropped from a height and its descent will be controlled using a parachute which the students designed and made. During the descent, data will be transmitted from the can to a laptop for processing and interpretation.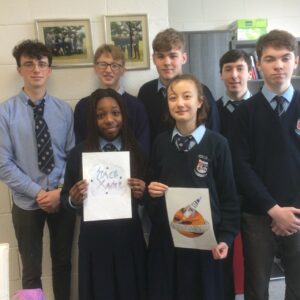 This marks the fourth time that the school has entered the competition and has achieved considerable success in the past, representing Ireland on two occasions at the European Finals in Norway.
This year's team consists of T.Y students Stephen Earlie, Diarmuid Hartney, Cian Hanrahan, Conor Londra, Michael Murphy and Stephen Parkes.
In addition to the technical aspects of the competition, the team must have a social media presence. We ask Instagram users to follow the team: https://www.instagram.com/teamspacexavier
The team organised a competition among the students of the school to design a logo for the can. Julina Ryan was awarded first prize, with Marion Anumati coming in second place.
We wish to thank Chris Kelly of Pinpoint Innovations, past pupil and previous Cansat competitor, for his generous sponsorship of the logo competition.
We extend our best wishes to the team as they continue their preparations for the competition.