April 29 2020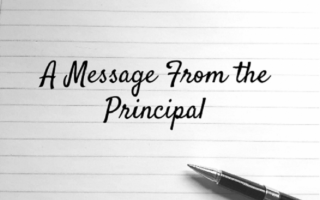 Dear students, colleagues and parents,
The final term is well and truly underway, though still in the most unusual of circumstances. The good weather has been some consolation in the last weeks so I hope most of you have been able to enjoy some fresh air and the encouragement that Spring gives to all.
As we continue with our work this term, I would again like to thank and give credit to our teachers and non-teaching staff for their service in continuing to provide education and support in what can be trying conditions. The Year Heads, Guidance counsellors, Deputies and I are hearing only positive reports from our students with regard to the engagement and advice from their teachers.
We know of course that separate from subject content schools support us all in our daily lives and contribute to our formation in many other intangible ways; I have written here previously about the camaraderie, the sport, the grounds, friendships, chats, liturgies, assemblies, the retreats and social placement, our fast friends, about how these experiences improve our lives and how much we are missing these now. I remind you to engage on Teams with your teachers, counsellors, classmates, and Year Heads, and to stay in contact with friends and your wider family. I am conscious too that some of our families will have suffered a bereavement during this time of school closure and that we are not in a position to mourn with you in normal ways. However, be assured you have the sympathy of the Crescent family and we keep you in our prayers.
Distance Learning & Online Resources
Thanks again to parents and guardians for your help in working with your children and helping them to access the work online. If you need any more help or have any questions, please let us know. As a school we use Microsoft Office 365 as our primary Distance Learning tool. As part of this software suite, we are using Microsoft Teams. For the remainder of this academic year, teachers and Year Heads will continue connecting with students on Teams as well as other software as appropriate. Teams has good functionality and of course is covered under our Acceptable Use Policy.
With regard to expectations for this term, you will have seen separate notices on our school APP detailing these. Teachers will be advising their classes directly about summer assessment, and these will vary according to teacher, subject, year group and work previously carried out. Final details about the Junior Cycle have been announced by the Department and our particular JC plans are posted in a separate message today. We hope this provides some reassurance to our 3rd years.
I remind all students to engage with your work and your teachers in a meaningful and respectful way, but of course our 6th Years are paramount in our minds. I remind you it is imperative that you keep working with a positive outlook and continue as you have begun, to keep the momentum going. We understand how stressful this time is; you will have good and bad days, don't allow the bad days to overwhelm you. Instead set manageable goals, and deadlines, and if it all seems too much, and out of control, step away and take a break. Return to your work later, and set a smaller goal, something achievable, and congratulate yourself on all you have accomplished to date.
We are expecting the timetable for the Leaving Certificate exams to be published in the first week of June, which is still a long way off. I remind you of the advice we gave last week, to our 6th years, which is to plan to take a break for at least that first week in June, by which time we should all have a clearer idea of where the country is in terms of the public health crisis and as a consequence the arrangements for the exams. Crescent will not be found wanting when the time comes to reopen, and I will continue to communicate any developments as soon as they are received via official channels. I remind you that very early on we included a dedicated Coronavirus/Covid-19 tab on the home page of our website, where you will find not only all of my letters to the community, but links from government departments, or other official agencies on this topic. This is updated regularly.
Class of 2020 Graduation
The highlight of Summer term, and indeed the academic year, is the graduation ceremony for our 6th year students, when we gather in the Central Area for a Mass of Thanksgiving. This was scheduled for May 22, 2020. Like so many other aspects of their final year, the arrangements for this occasion have been forced to change. Following conversations with our school captains, Sarah, Grace, Barry and David, and with a staff working group, and including consideration by Year Heads and the parent council, we have decided to now hold this ceremony in Autumn term when circumstances might allow us follow the normal format more closely. We don't want the Class of 2020 to leave Crescent without celebrating their achievements. Further details will follow as circumstances allow and will be dictated by our ability to organise larger gatherings.
I wish all our students, staff and families every success this term. Please let us know if there is any way we can make this time of pandemic less challenging for you, and we will help in whatever way we can. We keep a special place in our hearts and in our prayers for all past pupils and family members working in our health services and in other essential areas. Please send us your stories and/or photos of your experiences and we will share with our Crescent family. I hope everyone takes a break for this May 'holiday' weekend, as it is vital we try to stay in touch with normality and the regular rhythms of life.
May God bless you all,
Karin Fleming