As this situation looks like continuing for some time yet, the PE Dept would like to give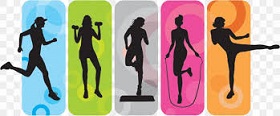 some help and direction.
Please remember
Above all else you must maintain social distancing. We urge to keep exercising during the lockdown but remember this must be in the context of the recommended guidelines.
Keep active
It is more important than ever to retain some level of physical exercise during these difficult times. There are all sort of guidelines/classes available online. Here are some suggestions
At 9am every morning you might like to tune in to "PE with Joe" on YouTube. This is age appropriate for all family members, no equipment necessary. It takes just 30 minutes a day.
There are similar classes on the web for a variety of activities, from yoga to juggling, meditation to boxing, to dance for exercise. Pick whatever interests you and go for it!
Consider going for a run or a walk around your neighbourhood (remember you must stay within the recommended 2km from your home). Begin slowly and conservatively and build it up by an extra 5 mins each day.
Lots of us nowadays have fitness trackers. Please make contact with one or more of your friends and do a step comparison. This will not only be motivation to exercise but it will also give you something to talk about!
The Limerick Sports Partnership has a really impressive "Active Limerick Hub" site where people of all ages and physical backgrounds can access tips and exercises that can be completed in a limited space.
We might also suggest some "PE homework". Having some time available could allow work on coordination exercises. Again, look these up online. However, in 1st Year PE programme all classes did juggling and an alternative hand wall toss exercise. These are excellent practices and need just two tennis balls or an improvisation (two potatoes!) for juggling! Improved coordination will benefit you in all sports.
Find a 20-metre safe area and do a BEEP TEST. This multi-stage fitness test is on the net so just follow the directions. If you wish, share your result with a friend and arrange to repeat the test every 2 weeks.
If you have any other ideas you think might motivate your schoolmates in these difficult times please email them to any of us in the PE Dept and we will share these, anonymously of course. Stay safe!