Principal/Head – Ms. Karin Fleming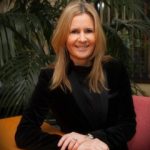 Principal's Summer Message
Dear friends,
As we approach the end of another academic year I write to thank you all sincerely for your support for the College this year. In particular I would like to acknowledge the members of the Parent committees, Social and Cultural, Finance Subcommittee and the Parent Council, for their enthusiasm and dedication to our students on your behalf. Schools work best when there is genuine cooperation between the different stake holders, and Crescent has always been very fortunate in this regard.
Our TY students marked the end of a special year in their education journey with their closing ceremony on Wednesday 23. I hope they each feel that the year has been worthwhile and has equipped them to take on the challenges of the Leaving Certificate Programme over the next two years.
Summer exams for 1st, 2nd and 5thconclude on May 31 and we will have our annual Sports Day for first years on Thursday 31. Students have been working very hard in preparation for these exams and can now enjoy a well-deserved break over the Summer. Reports will be sent home in the next couple of weeks.
Naturally our thoughts go out to our Junior and Leaving Certificate students who are in to the final stage of their preparation. This is indeed a gruelling experience for young people, but they have been guided well by their teachers, and parents provide the encouragement to eat and sleep properly, as well as taking some exercise every day.
A highlight of our academic year is the Graduation ceremony, and this year was no exception. It is a tremendous occasion for the school and families to celebrate this particular rite of passage. We wish the class of 2018 well and encourage them to remain in touch with Crescent as they begin their adult lives.
Some important information for the academic year 18/19:
The design team for our reroofing project has been appointed and work will begin during next year. As we will have construction vehicles on site we will no longer be able to offer parking places to students.
I remind you that students should wear correct school uniform at all times, including the school tie and jumper. Please purchase school trousers for your sons which are regular or slim cut, rather than a 'skinny' cut as these are impractical for normal school wear. Sixth year girls may wear a pinstripe shirt and sixth year boys wear navy-blue school trousers. These are per the uniform regulations in the Code of Behaviour, outlined in the school journal.
We will post calendar details very soon, but I give notice that the new school year will begin on Monday 27 August
In wishing you the best for Summer 2018 I thank you again for your generosity and support for the College.
God bless,
Karin Fleming