Principal/Head – Ms. Karin Fleming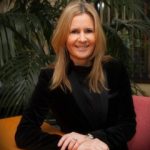 Principal's Message for Spring 2018
Dear All,
As I write our third and sixth years are powering through their Pre- Junior and Leaving Certificate examinations in the Sports hall. These are exhausting exams and I hope that all students avail of the opportunity to recover over the break because when they return the remainder of this term and the final term will demand intense study, oral exams in Irish and another European language, and other crucial practical examinations. It is essential they continue to follow the guidance their teachers give them, and to remain calm and focused. Thanks to the Year Heads, Niamh and Eamonn who, along with their colleagues guaranteed the smooth running of the exams.
Spring has arrived and we all look forward to those first blooms, and more daylight hours as the season of Lent arrives and we look ahead to Easter. Last week we were honoured to host Fr Victor Assouad SJ, Fr General's Assistant for Western Europe. During his visit he met staff and students and thoroughly enjoyed his time with us. The Boards of Jesuit colleges in Ireland attended their annual gathering in Milltown on Friday 2 February. It is always encouraging to meet with our colleagues in the other schools, whether Board members, staff or students, as we share so much and support one another during the good and the difficult times. The Heads, Deputies, chaplains, guidance counsellors and teachers meet and engage in reflection and planning several times during the school year.
New Child Protection Procedures have been developed for Primary and Post Primary Schools, Crescent College Comprehensive SJ will meet the new Child Safeguarding Statement requirements by 11 March. Schools are permitted two separate half-day school closures during the 2017/18 academic year to allow time, as a school community, to engage with the revised procedures. We will take the first of these half days on Thursday 8 February. Classes will end at 12.35, but exams for 3rd and 6th years will continue as scheduled.
I remind you that the Board is planning for the future development of the College and all parents are welcome to participate in this process through the Parents' Council. We are at an advanced stage with the Department with regard to the reroofing project and the construction of 5 extra classrooms. We are also hoping to launch a campus development plan in the near future.
This time of year is the 'business' end of the sports calendar in schools and again Crescent is at crucial stages in many competitions. To supplement the budget for sports (which the sports subscription does not adequately cover) we hold an annual fundraiser. This year our energetic committee of parents and sports officers are holding the '20K Drop' on Friday 9 February at 8pm evening in the Radisson Blu hotel. All are welcome to attend what I am reliably informed will be an enjoyable evening for all the family.I am enormously grateful to the committee members and to all who are supporting this venture. I will share in my next message details of the funds raised.
God bless,
Karin Fleming