Music
CHOIR & ORCHESTRA 2021- 2022

CHOIR:Rehearsal Wednesday 1.20pm – 1.55pm  ORCHESTRA:  2nd, TY & 5th Years: Tuesday 12.35pm                                                  1st, 3rd & 6th Years:Tuesday 1.15 pm
The head of the music department in Crescent is Ms. Róisín Lavery.
Music is offered as a Junior and Leaving Cert Subject and is also available to Transition Years.
CHOIR 
The school choir rehearse on Wednesdays from 1.20pm – 1.55pm in Room 8.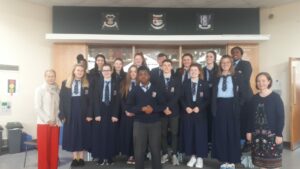 All are welcome to join – music students & non music students, male & female
When you sing on the football terraces or at a concert with your friends, singing is fun!
Studies show that choral singing improves our mood, with a decrease in stress, depression and anxiety.
These effects are often attributed to the deeper breathing associated with singing, that is also used in meditation.
These benefits are enhanced in a group setting, compared to singing alone
There is the social side, the chance to make new friends and meet others who have an interest in music.
It can also be a real bonding experience. 
And, while we might not all be another Pavarotti or Christina Aguilera, by singing in a group we improve our musical ability and deepen our understanding of music.
Learning something new helps boost self-esteem and confidence.
"Music in the Community" CCC Orchestra, Choir & Trad. Group
Tuesday 9th April 2019     Performance at Gaelscoil an Ráithín
Tuesday 30th April 2019    Performance at Milford Hospice & Nursing Home
                  Repertoire included:  Rock Around the Clock, Bridge Over Troubled Water, Empire State of Mind, Imagine,                                                                                     Not Too Far From Here, Rhapsody in Blue, Millennium Prayer, Eleanor Plunkett,                                                                                              Jazz Cantate, Only You, Hallelujah, Analyse
             Some Photos from our performance at Gaelscoil an Ráithín 09.04.19:
 Some Photos from our performance at Milford Care Centre 30.04.19:
Listen to:  All my Trials sung by C.C.C. Leaving Cert Choir at Graduation May 23rd 2014
                                                                                                      *                           *                      *                      *
ORCHESTRA
REHEARSALS for AY 2021-2022TAKE PLACE AT THE FOLLOWING TIMES:
2nd, TY & 5th Years:

 Tuesday 

12.35pm (l

unchtime)
1

st, 3rd & 6th Years:

Tuesday 

1.15 pm (

lunchtime)
Tutti Rehearsal (Everybody) every month on Tuesdays from 12.35pm -1.55pm
In November 2016 some members of the orchestra and some vocalists from the school recorded a song for charity called "Raining on a Christmas Night".
The song was written by Mr Peter McNamara and arranged for the crescent ensemble by Ms. Róisín Lavery.
The CD raised over €1000 for Milford Hospice & Orphan Education Fund Uganda.
You can listen to the track here:
The School Orchestra competed in Féile an tSamhraidh in Midleton on Friday 5th May 2017.
They were placed in 2nd place with a mark of 87%.
                                                                                      *                                   *                                       *                                *
Irish Trad. Group
Irish Trad Musicians are welcome to join the CCC Trad Group.
There is an annual performance at school assembly for Seachtain na Gaeilge.
Waltons music for Schools competition 2013
On Monday 28th Feb 2013 our 30 member Orchestra & 65 strong choir recorded a song for the Waltons Music for Schools Competition 2013.  Each school must record a song and submit it and hopefully be selected as one of the final 6 schools to perform in the National Concert Hall Dublin on 8th April.  The Overall winning school will receive a trophy & €3000 worth of Walton Music vouchers!
Our song is "Rule the World" by Take That.  The recording took about an hour & a half.  It was taped and edited by Aidan Cregan and some assistants from Hopkins class.  Well done to all on a great performance!
Final!
Crescent College Comprehensive were selected to perform as one of the final 6 schools in the National Concert Hall Dublin on Monday 8th April 2013.
We received 2nd place overall and won a trophy and €1500 worth of Musical instruments & equipment for our school!
Here is the performance!:CCC Choir & Orchesra perform "Rule the World" by Take That at NCH on 08/04/13
*                                                   *                                                    *
"Celebracíon di Música"
10th October 2009
To Celebrate the sesquicentenary of Crescent College in 2009 a musical extravganza was held in October 2009.  Choirs and orchestras from Jesuit Colleges: Crescent, Belvedere, Clongowes, Colaiste Iognaid, as well as Laurel Hill Coláste, Limerick, and St. Dominic's, Cabra, took part. Two past students from Crescent acted as adjudicators, namely Bill Whelan (Composer of Riverdance) and Professor Reamonn Keary from the Royal Irish Academy of Music. It was a unique and most enjoyable Celebración.
Another past pupil, Richard Harris was honoured with a performance of his iconic hit, "MacArthur Park" by a past pupils orchestra who came together for the occasion. Bill Whelan introduced the piece with a letter from the composer Jimmy Webb, which was a fantastic honour for all involved.
*                                                   *                                                *
Congratulations to Deirdre Ahern who won the O'Cillín Medal for highest result in Ireland in Leaving Cert Music 2009!